Mother's Day weekend May 10–12, 2019 is spring's glory in the Baraboo Bluffs: peak birding and tree color, blooms abound, awakening to the dawn chorus, breakfast on the deck with hummingbirds and falling stars during fireside stargazing. Enjoy a pink wine tasting, Baraboo's Spring Fair On The Square and more. Treat Mom to a refreshing getaway at the Inn at Wawanissee Point bed-and-breakfast.
During the Spring Fair On The Square Saturday, May 11, 2019, more than 150 artists and craftspeople will sell their work around the historic courthouse square in the Downtown Baraboo Historic District, 9:00 a.m. to 4:00 p.m. In the center, Eat Street offers an array of savory and sweet street food with live music and performances throughout the day.
The Baraboo Farmers' Market www.baraboofarmersmarket.com opens with locally grown foods from 7:30 a.m. to 1:00 p.m. Bring a cooler to take home greens, asparagus, rhubarb and radishes, new-crop maple syrup, bedding plants and more.
Learn more about the Spring Fair On The Square at www.downtownbaraboo.com.
Spring's Splendor In Early May
Leaves unfurling create colorful spring vistas rivaling fall's. See apple blossoms at Ski-Hi Fruit Farm skihifruitfarm.com.
Woodland ephemerals and blooms in the prairies and wetlands, plus tulips and daffodils in the Inn's gardens.
All frog species and the American toads are singing for mates in the upland marshes around the Inn.
Migrating birds arrive almost daily in early May: chatty catbirds, wood thrushes, Baltimore Orioles, indigo buntings, ruby-throated hummingbirds, scarlet tanagers and more.
Bike and paddle amid the color through the hills and on the Baraboo River, rentals available nearby.
Hike our enchanted forest to bathe in moist air, earthy aromas, green flora, and soothing stream flows.
The first two weeks in May warblers return to the critical breeding habitat in the wooded bluffs around the Inn www.wisconsinbirds.org when temperatures are warm enough for the insects they feed upon to emerge.
Daybreak is the best time to hear and see birds, dusk for marsh birds and amphibians.
May Star Gazing
The Eta Aquarids Meteor Shower runs annually from April 19 to May 28, peaking before dawn May 5, 2019, during a dark sky free of moonlight, just as it's warm enough to enjoy your first campfire of the season on our secluded prairie terrace listening to the romantic frog chorus. May 19 and 20 Jupiter and the full Blue Flower Moon (full May 18, 2019) join beside one another two hours after sunset for a fun pairing to see. Order a s'mores kit and snuggle under a blanket! 
Book a May Escape HERE or call us at 608-355-9899.
Mother's Day Weekend Activities
May 10–11:  Wisconsin Gospel Music Festival at the Crystal Grand Music Theatre, Wisconsin Dells, 7:00 p.m. Details and tickets at www.crystalgrand.com.
May 11: The Mid-Continent Railway Museum, an outdoor living-history museum in North Freedom, 10 minutes west of Baraboo, opens for the season with a Pizza Train at 11:00 a.m. and an Elegant Dinner Train at 5:30 p.m. Reserve tickets now at www.midcontinent.org.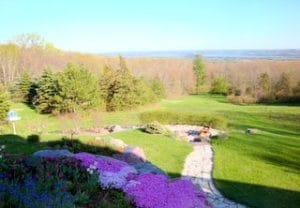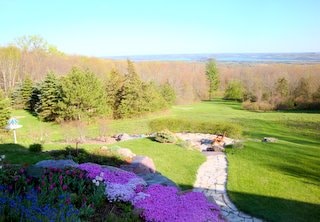 May 12:  Think Pink Spring Wine Tasting at Wollersheim Winery & Distillery along the Wisconsin River, Prairie du Sac, 11:30 a.m., 1:00 p.m. and 2:30 p.m. Celebrate everything pink with a casual, seated tasting of our favorite pink wines paired with light snacks in our historic Sugarloaf room. Reserve your seat, learn more at www.wollersheim.com.
May 12:  Explore The Night Sky at Devil's Lake State Park www.devilslakewisconsin.com, Baraboo, 8:00 p.m.–11:00 p.m. Meet at the north shore's boat launch parking lot, behind Rock Elm Shelter, five minutes west of the Inn. Join the Madison Astronomy Society to learn about the night sky. Telescopes will be available for viewing. An informal program, come anytime. Call 608-356-8301 ext. 140 or e-mail SusanA.Johansen@wisconsin.gov with questions.
May 18: Historic Indian Agency House At Fort Winnebago opens for its season, Portage, 25 minutes from the Inn, 10:00 a.m.–4:00 p.m., on 225 acres with a nature trail and at the trailhead of the Ice Age Trail's Portage segment. Bring a picnic lunch to enjoy with apple pie and ice cream after the special apple tree dedication at 12:00 p.m. www.agencyhouse.org
May 16: Fort Winnebago Surgeons Quarters Historic Site opens and celebrates 201 years in 2019, Portage, 25 minutes from the Inn, Wednesday–Sunday, 10:00 a.m.–4:00 p.m. www.fortwinnebagosurgeonsquarters.org