Camping In The Woods Near Devil's Lake
In August 1981, we, Dave and Trudy Holdener, purchased a 42-acre wooded parcel known as Wawanissee Point from Vaughn Conway of Baraboo, Wis. This property, perched 800 feet above the Wisconsin River valley, was across the road and east of the Holdener family's acre of land where Dave spent his childhood camping.
We constructed an access road to a lookout point and cleared a path to the free-flowing spring. The following year we relocated the Holdener outhouse from across the road, and from that capital improvement followed 17 years of camping, trail blazing, tree planting and memorable family gatherings.
Planning A Dream Home 
The mid 1990s found us sketching our dream home, which had to accomplish two things: showcase one of the most picturesque settings in the state and accommodate family and friends. In June 1998 we held a private groundbreaking ceremony. Framing commenced during the winter of 1999, and as the 10,000-square-foot structure emerged we realized this was indeed going to be a unique place. So special we needed to share it with others. And so the Inn at Wawanissee Point was born.
There are many challenges when building into and on top of a hill. As Frank Lloyd Wright so profoundly wrote:
No house should ever be on any hill, or on anything. It should be of the hill...belonging to it, So hill and house could live together, Each the happier for the other.
- Frank Lloyd Wright
With this credo guiding us, we carefully blended the warmth and beauty of wood, the strength and nobility of indigenous quartzite, and the serenity of spacious interiors, then surrounded it with miles of private, manicured hiking trails. We think Mr. Wright would approve.
Family Craftsmen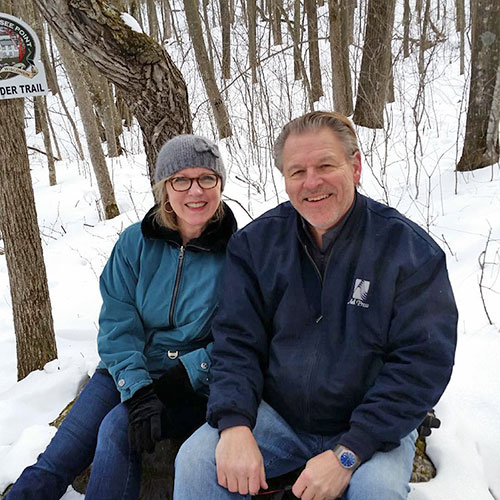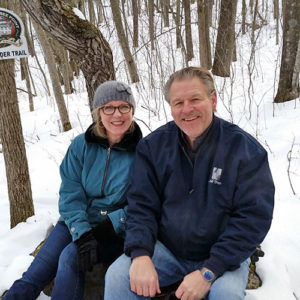 It took six years to complete our dream. There are two very special people who made this possible. Trudy's father, Alois (Louie) Hastreiter, a Bavarian master cabinetmaker who came to the United States in 1956, hand-picked all the red oak he used to craft the 42 doors, numerous columns and the detailed crown molding throughout the Inn. His beautiful marquetry (decorative wooden inlay) portraits and thresholds are found throughout the main level. Louie, now 93, continues to visit and enjoy his contributions.
Dave's brother Richard, also a master cabinetmaker, crafted the stairwell, barrel roofs, radius balcony and magnificent kitchen cook-top and hood. Sadly, Richard passed away suddenly in January 2003 before the Inn was complete.

We invite you to experience this unique place, built by very special people so you can feel the magic of Wawanissee Point.
– Trudy and Dave Holdener