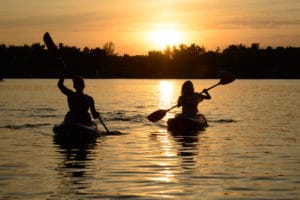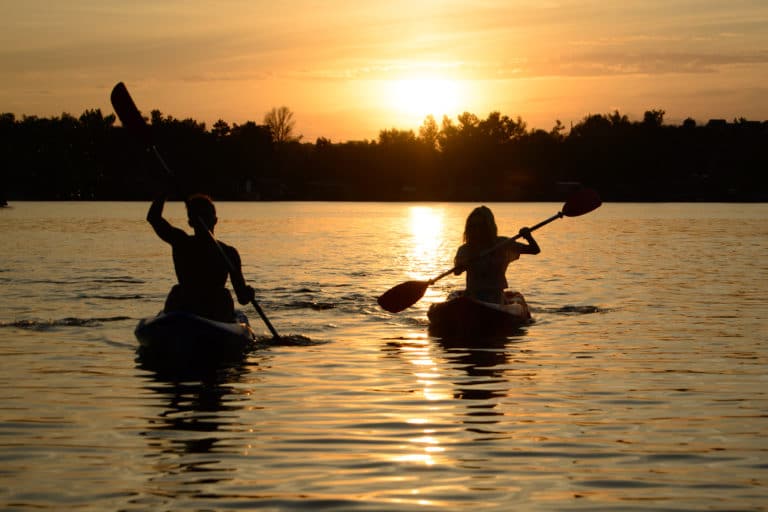 With 15,000 lakes, 43,000 miles of rivers, and 659 miles of pristine shoreline along the Great Lakes, there's little doubt that Wisconsin is the perfect place to get out on the water to beat the summer heat. Here at the Inn at Wawanissee Point, there are plenty of opportunities to get out and go kayaking or canoeing.  Our luxury villa is located just outside the town of Baraboo, and just a few minutes away from popular places like Devils Lake State Park and the Baraboo and Wisconsin Rivers.  Book your summer getaway to our luxury Bed and Breakfast, and get ready for an exciting canoeing or kayaking adventure.
Where to go Canoeing & Kayaking Near our Inn
Devil's Lake State Park, Wisconsin's most popular state park, is just minutes away from our Bed and Breakfast. Here, you can rent canoes, kayaks, standup paddleboards, and rowboats to paddle around the lake. Devil's Lake is a beautiful, 360-acre lake fed by freshwater springs, and there are 2 large sandy beaches to relax on when you need a break. Mirror Lake is another beautiful place to launch a kayak or canoe (rentals available), where you can spend the day taking in the scenery and enjoying the plentiful wildlife around.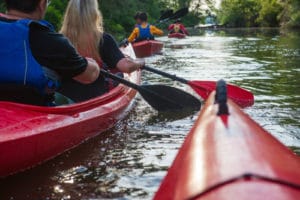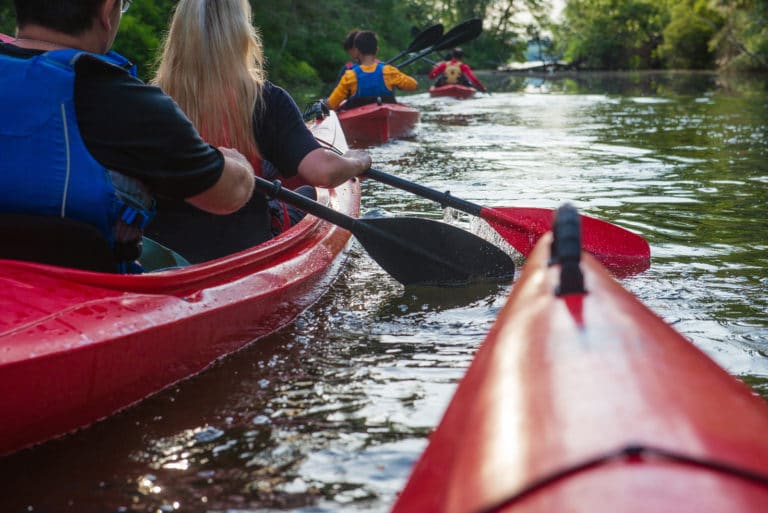 If you'd rather spend your day paddling down a river, there are two great options near our Bed and Breakfast:  The Baraboo River and the Wisconsin River. The Baraboo River happens to be the longest free-flowing stretch of river that was restored after the removal of a dam. It's a relatively shallow and calm river, making it the perfect place for amateur paddlers and those just looking for a calm, enjoyable day on the water. If you have your own canoe or kayak to bring, this is a great place to take it. However, if needed, beyond boundaries rents boats, and even has a shuttle to get you to your destination.
The Upper and Lower portions of the Wisconsin River are incredible places for canoeing and kayaking, with a variety of sandbars along the way. These make great places for swimming and picnicking!  You're also likely to see plenty of wildlife, including deer, a variety of songbirds, herons, sandhill cranes, turtles, frogs, and majestic bald eagles. Vertical Illusions offers some delightful guided kayaking trips on the Wisconsin River, or you can rent your own for the day from Bluff View Canoe Rentals.
Relax with the Best View in Wisconsin
The Inn at Wawanissee Point, a secluded villa nestled on 42 private acres, boasts the best view in Wisconsin. It's here that you'll find Wisconsin's ultimate relaxing getaway, catering to adults only. Take in the breathtaking view from the patio, gaze at the stars beside a warming campfire, meander the wooded trails around our property, enjoy the wildlife, or get cozy in our luxurious guest rooms. Whatever it is you're dreaming of, our peaceful setting will whisk your worries away, leaving you refreshed, rejuvenated, and reconnected after your stay with us. Book your room at our Wisconsin Bed and Breakfast today.