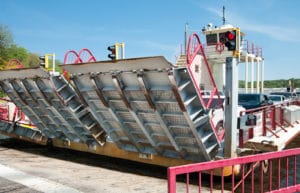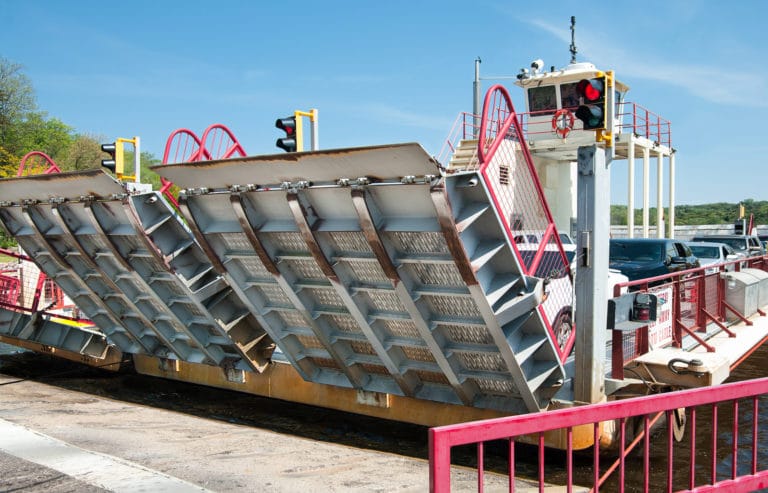 There's plenty to do at our Bed and Breakfast during these glorious summer months.  Spend your time hiking through Devils Lake State Park, paddling on local lakes and rivers, or exploring our own beautiful property and connecting trails. When you're looking for a more relaxing adventure, consider taking a quick ferry ride across Lake Wisconsin. It's Wisconsin's only free ferry, and it's only a 10-minute drive from the Inn at Wawanissee Point.  Book a room at our Bed and Breakfast this summer, and explore everything the Baraboo, Wisconsin area has to offer. 
The Historic Merrimac Ferry in Wisconsin
The Merrimac Ferry shuttles cars, bikers, and passengers across Lake Wisconsin, between Merrimac and Okee. It's a quick ride, taking approximately 7 minutes, and it operates 24 hours a day, 7 days a week. Ferries used to be a fairly common sight up and down the Wisconsin River, but over the years they've become increasingly rare.  The Merrimac Ferry has been in operation since 1848 and is itself a delightful piece of Wisconsin's history.  The ferry serves as an important connection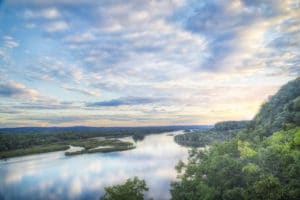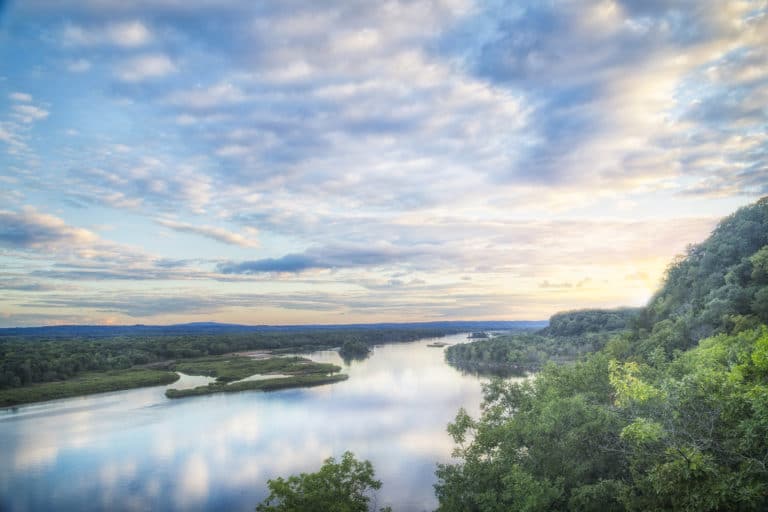 between both sides of highway 113, but it's also become its own tourist attraction. In 2018, the Merrimac Ferry made more than 46,000 trips across the river carrying an estimated 250,000 cars.
The Merrimac Ferry may not be the most direct way to get to Baraboo or Devils Lake State Park, but it is by far the most scenic. It also serves as a vital connection between the Ice Age Trail for hikers traveling through the area. If you're just riding the ferry for fun rather than to get somewhere, consider stopping in for lunch or dinner at Fitz's on the Lake or Lucky's on the Lake. Both offer superb views and outdoor dining.
Merrimac Ferry Logistics
The Merrimac Ferry holds approximately 15 cars, with some additional room for motorcycles, bikes, and passengers.  Though the trip is quick at just around 7 minutes, you may have to wait briefly for your turn aboard this historic vessel, especially during the busier summer weekends.  The Merrimac Ferry is a popular route for travelers coming to and from Madison, and for those seeking access to the Ice Ace Trail and Devils Lake State Park. If you do find yourself waiting on a hot summer day, take the time to get some ice cream from Merrimac Ferry Landing Concessions on the north side, or The Merrimac Scoop on the south side of the lake.
Our luxury villa provides unparalleled access to the Baraboo area and the incredible opportunities for outdoor recreation in and around Devil's Lake State Park. From here, you'll enjoy a spectacular view of the Lake Wisconsin Valley and a sense of peace and serenity you won't find anywhere else.  It's the perfect summer escape.  Book your room today, and come explore the area with us.