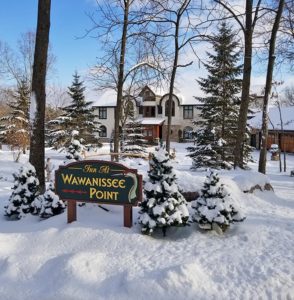 Are you looking for a winter getaway that has the perfect blend of upscale romance and fun winter activities? A hidden gem located near the quartzite bluffs of Devil's Lake State Park in Wisconsin's Sauk County, the Inn At Wawanissee Point is an ideal getaway during the long, cold winter months. Just because it's winter doesn't mean the exploring and fun stop here!
With nearby Devil's Lake State Park as well as other recreation areas suitable for a variety of winter activities, the possibilities seem endless for adventure. After playing in the snow all day, warm those toes up at our Bed and Breakfast. Book your room today!
 5 Winter Activities in and around Devil's Lake State Park
When exploring the area in and around Devil's Lake State Park during the winter you'll find yourself surrounded by the beauty of the season and solitude as crowds thin out during these months. As the snow falls the opportunities to experience this place in new ways go up.
Along with Devil's Lake State Park, there is also Mirror Lake State Park, Pewits Nest Gorge, and Parfrey's Glen to the southeast of Devil's Lake State Park. Why not try out one (or more) of these 5 activities available throughout the winter months!
Snowshoeing is one of the most popular winter activities, and one of the best ways to see all parts of Devil's Lake State Park in the winter. It is said that if you can hike there in the summer, you can snowshoe there in the winter. Whether you have never had the pleasure of having snowshoes on your feet or you are at the Olympic level of snowshoeing, there are a range of options. From the flat and easy campground areas of the park to the East Bluff and Uplands and Sauk Point trails, you are sure to find an area that fits your level. A great adventure, when it is safe to do so, is snowshoeing on frozen Lake Wisconsin. If you do not travel with your snowshoes don't fear! At Devil's Lake State Park you can borrow snowshoes for free from the Nature Center. The Nature Center does keep irregular hours in the winter, however, and may not always be available so best to check before you head thereby calling the park.
Hiking in the clear, crisp air of winter is good for the soul and body. In Devil's Lake State Park all of the bluff trails remain open but are not maintained. Hiking is an "at your own risk" activity as many of the trails can be slippery this time of year. But if it's safe to do so, there are areas such as Parfrey's Glen, just southeast of Devil's Lake State Park. Explore a huge, deep gorge here made up of sandstone and quartzite walls. A blanket of snow highlights the beauty of these rock formations and provides ample photo opportunities. Similar, but not as well known, is Pewit's Nest Gorge, where there is a walking trail that leads to the mouth of the gorge here, as well as a lookout area on top of the cliffs to get a birds-eye view of this forest in winter.
Cross country skiing is also one of the more popular winter activities. Within Devil's Lake State Park there are about 5 miles of groomed trails as well as 6 miles of ungroomed multi-use trails to explore. Nearby, Mirror Lake State Park is a popular winter destination due to its 17 miles of groomed trails. Be sure to check the park's websites for trail conditions before heading out. Cross country skis are available for rent in the town of Baraboo.
Get in touch with your inner child by going sledding this winter in Devil's Lake State Park! Near the park's nature center there is a popular sledding hill where you can once again feel the exhilaration of flying downhill while your adrenaline is pumping.  Sledding is done at your own risk as it is not a "sanctioned" activity by the park.
Devil's Lake State Park naturalists have guided forest bathing walks to enjoy the winter forest. What's forest bathing, you ask? It is the act of consciously taking in the sights, smells, sounds, and the forest atmosphere as a whole. Studies have shown that forest bathing is associated with lower stress levels and lower blood pressure. For ultimate relaxation in the outdoors, try the invigorating winter activity of forest bathing.
Warm-up at our cozy Bed and Breakfast near Devil's Lake State Park
After spending all day having fun in the snow, you'll want to settle in and get toasty in one of our 4 romantic guest rooms. Take off those layers from the day and slip on a plush bathrobe and read a book under the warmth of a down comforter. These are just some of the many features included in all guest rooms at the Inn at Wawanissee Point.
You may want to take advantage of our outdoor hot tub by taking a dip while gazing up at the stars through the crisp clear winter night. Another way to ease those sore muscles from a day of snowshoeing or cross country skiing would be a session in our luxurious infrared sauna. For the perfect romantic winter experience book your room at our Wisconsin bed and breakfast today.